TO GROW YOUR CONFIDENCE AND MAKE BOLD MOVES.
TO DISCOVER THE POWER OF BEING TOTALLY YOURSELF.
TO EXPERIENCE REAL COMMUNITY UP CLOSE.
YOU ARE INVITED TO
The Imperfect Boss Camp
October 8th to 11th 2019 | Haliburton, Ontario
We're heading back to Camp Timberlane and calling for one hundred creative women to join us for four days in the woods. Together, we will grow our confidence and find genuine community up close.
a forty minute film that tells the story of thirteen creatives at camp
You are a heart-first, all-the-feels, people-focused, self-care-lovin, out-to-change-lives kinda creative woman.
Whether you've got an artistic heart and you just love making, you're an entrepreneur who is doing all the things or you're leading in the corporate world with a whole lot of gumption, you know that you are here to make a big difference by being totally yourself (because that's where the real impact begins).
You are dreaming big and planning those dreams out. You're stepping outside your comfort zone. You're scrolling social with an encouraging heart. You're learning that you matter. You're making something out of nothing. You're showing up to this life every single day.
YOU'RE DOING THE THING.
But here's what else we know.
Sometimes doing our creative work can feel more human than superwoman.
You get on social and it seems like everyone else has it together, but you keep forgetting to put pants on or dry shampoo your hair. You're riding the emotional rollercoaster of being an entrepreneur and sometimes that feels really good and sometimes that is putting your face in a box of donuts inhaling the pastry smell. There are days where you feel lonely like everyone is scrolling past you, but no one actually knows you. And sometimes the self-doubts are way louder than the affirmations ever could be.
We know because we've lived those places.
And sometimes you'll still find us there.
Because PS, it doesn't matter how far or famous you get, being a human and being a creative will forever be a messy, exhilarating and imperfect gift.
And this is exactly why we've created such an intentional camp experience.
So that we could gather as Imperfect Bosses to build real relationships, to dive into the messy sides, to let go of the real things that hold us back, to unplug from a world that is always telling us what to do, to find our voices and to cultivate the confidence to be totally ourselves. Period.
Our Culture
We are so passionate about creating a confidence-inducing culture. Because culture will impact you before you have your first conversation. And the deeper we dive into culture, the more we are changed in a gut level way.
We hold space for and support women as they get more and more free.
We celebrate taking action outside of our comfort zones and growing as leaders.
We see the good in one another relentlessly and we speak to it.
We make room for laughter and play because it makes us resilient.
We value genuine relationship and the vulnerability of being truly known.
What Our Experience is Made Up Of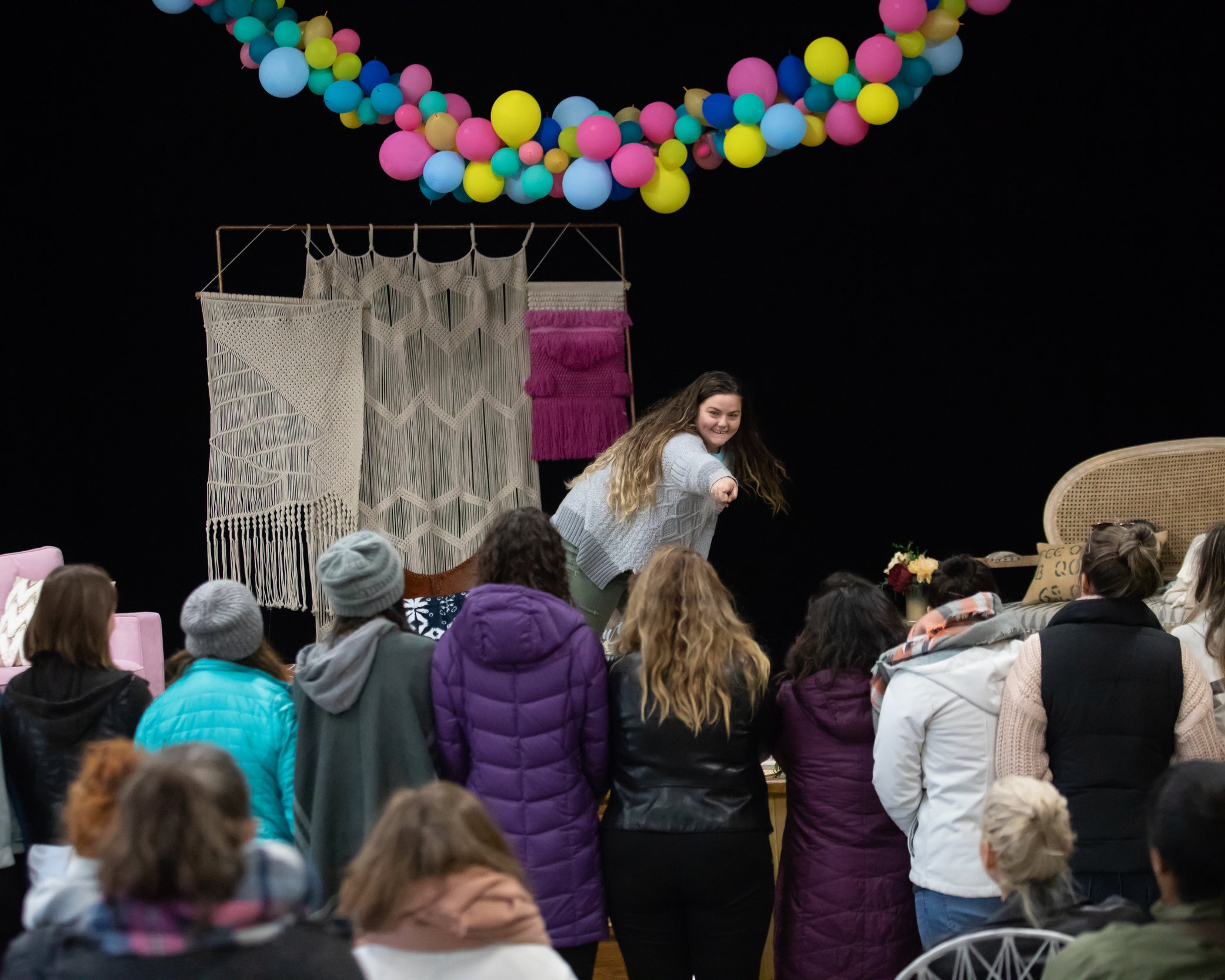 We'll gather in the Rec Hall where you'll hear from speakers and be empowered to open your heart, be imperfect, grow your confidence and show us what you got. These sessions will prove to be electric, fire-starting, eye-opening and may just make you want to get on your chair and start shouting. I mean, really.
You'll be assigned into a mentor group with ten other incredible women. Our mentors are some of the most supportive, life-giving, and encouraging women we know. You'll have daily meets with them where you'll get to dive into real conversation about what it means to be a creative and a woman in our time.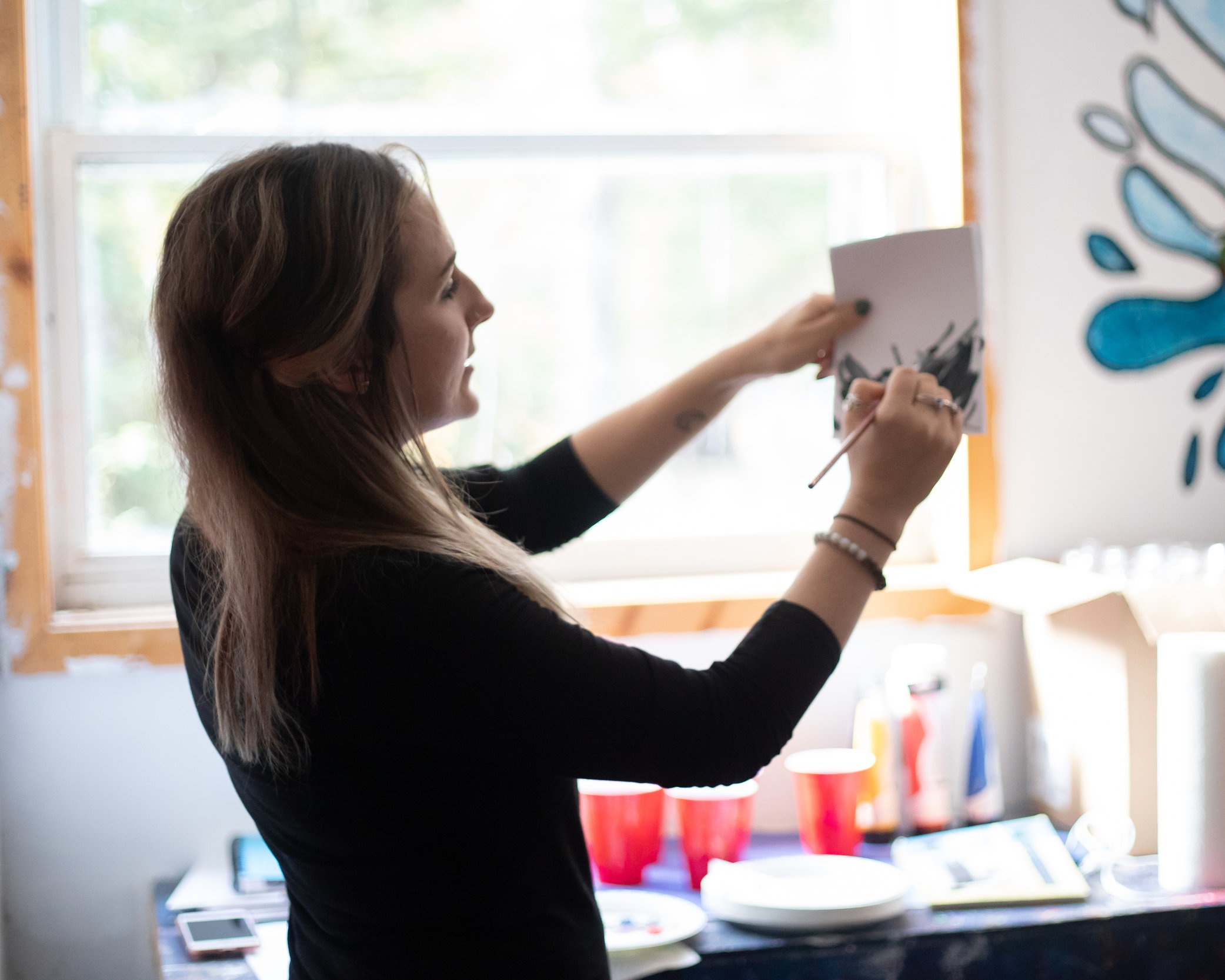 These workshops will have a focus on creativity, personal growth and business education. We're talking things like painting, dance, journalling, meditation, social media, online courses and branding. Workshops are taught by guest teachers, mentors, speakers and our amazing camp team!
We are all about having a blast. Because why else would you gather with one hundred amazing women in the middle of nowhere? In the evenings, we'll have things like bonfires, dance parties, concerts, and awards shows. Get those dancing shoes on, babycakes.
SINCE CAMP, OUR CAMPERS HAVE:
met best friends who are in each other's corner for life
healed their relationship with themselves forever
changed their business to do what they really love
found the confidence to put themselves out there and take big action
collaborated on styled shoots, masterminds, events and products together!
this is tentative and could change
AFTERNOON
Leisure / Workshops
Bunk Meeting
Dinner
Inspirational Rally
Dance Party
MORNING
Yoga
Breakfast
Inspirational Rally
Workshops
Lunch
Workshops are a mix of creative, personal development and business education depending on the day.
Meet The People
Okay, we know this is what you all came to the website for. This is our amazing camp team who will be speaking, mentoring and hosting you. They love and believe in you so much already.
For four days, we do life together.
The Imperfect Boss Camp is being held on Lake of Two Islands, a secluded, spring-fed lake, surrounded by 1,100 acres of hardwood forest in the Haliburton Highlands called Camp Timberlane.
Yea, y'all! It is a real summer camp. We're trading stuffy conference centres for the wild outdoors where we can actually breathe and open our hearts. Imagine watching the sunset with a new friend, letting go of your fears staring at the stars, or canoeing to process your newest idea. Pretty amazing, yea?
You'll be sleeping in cabins on a bunk of your very own (bottom bunk forever, anybody?) equipped with electricity. Each cabin has room for 8‐16 (in bunks) in the main room and an additional 4 (bunks) beds in a smaller, adjacent room. Each cabin has its own bathroom and there are designated showers buildings.
But, what about the food?
We mean, food is important, right? We serve three meals per day, as well as amazing snacks and drinks available whenever you need them. We work with the camp staff to create options that are healthy, balanced and totally delicious. This ain't your normal camp food. We can accomodate vegetarian, lactose free and other special dietary needs. #noexcusefornotcoming
Note: we are an alcohol-free event.
For four days, we will be your home. No matter where you live, you can get here and it'll be one-hundred-percent worth the distance. We have speakers and mentors coming from all across North America and are expecting women to arrive from all over the world. Last year, we had women from over five countries!
DRIVE
Our camp is two hours from Toronto and three hours from Ottawa. If you live in vicinity, car-pool with friends and make your way to us!
AIR
Fly into Pearson Toronto International Airport and rent a car with your friends or grab a seat on our bus to get to camp!
BUS
Closer to, you will have an opportunity to purchase a seat on our bus from Toronto and start making friends right away. I mean, amazing, right?
OPTION TO RENT BUS + BEDDING
There are payment plans available. If you need a payment plan, contact us at camp@theimperfectboss.com.
Includes:
Three Nights of Accommodations
Meals + Snacks
Inspiring Keynote Rallies
Intimate Mentor Groups
Evening Fun
3-5 Workshops
Headshot Photo
Swag Bag + Gifts
Access to Camp Activities
Includes:
Post-Camp Masterclass
Upgraded Swag Bag
Recordings of Inspirational Rallies
Digital Access to Workshop Worksheets
Three Nights of Accommodations
Meals + Snacks
Inspiring Keynote Rallies
Intimate Mentor Groups
Evening Fun
3-5 Workshops
Headshot Photo
Swag Bag + Gifts
Access to Camp Activities
During the check-out process, you can upgrade to a VIP ticket, add bedding ($70CDN) or grab a bus ticket ($150CDN) if paying in full. You can also add on if using a payment plan by going to the store.
No question left unanswered.
When does camp start?
Camp gates open at 3:00 pm on October 8th and registration runs until 6:00 pm.
What airport should I fly into?
You will fly into Toronto Pearson International Airport! You can either rent a car, carpool with friends or take our camp bus from there. More information on the bus will soon be released. We do suggest that you either land the night before or early the morning of the 9th.
When does camp end?
Camp comes to a close at 1:30 pm on October 11th.
Can I arrive late or leave early?
The camp is set-up so that you arrive during registration and leave after closing. If there is a unique situation, we'll see if we can accomodate!
Is transportation and bedding included?
No, it's not. You'll need to find your way to camp in terms of flying and driving, but you will have the option to purchase a seat on our camp bus from Toronto or rent bedding from us if you're flying!
Can I bring technology?
You can, but there will be spots of the camp, that are technology-free. And, we highly recommend you to go as unplugged as possible.
Can I bring alcohol?
No, we operate a dry camp. If you bring alcohol or drink, you will be asked to leave.
Can I request specific bunkmates or mentors?
You can! There is a spot for that in your registration form and we'll do our best!
Can I teach a workshop?
We'll have specific opportunities such as teaching workshops open to those who have registered and who want to get more involved! So, register and watch your email.
What about emergencies?
We have a camp phone, internet available and access to email for staff and emergency needs. We will also have medical assistance on hand.
Are there refunds or transfer of tickets?
There are no refunds, but you can absolutely transfer your tickets!
Will there be vegetarian, vegan, gluten-free, and allergy specific food options?
Of course! You can indicate this in your registration when you purchase your ticket.
You're ready for this.
You're ready to build real, genuine friendships. You're ready to be surrounded by a community of vulnerable and encouraging women. You're ready to let go of the things that are holding you back and step forward into confidence. You are ready to step away from your work to open up your heart and become the leader we know you already are.